The Bishops Cleeve shop was opened in the late 1970's.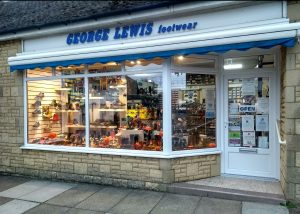 We have been involved with the village and served the community ever since.
Our business has been established for nearly 50 years, our family business started in Gloucester and we opened the Bishops Cleeve shop 40 years ago. Although we are a small shop, we have a large range of styles and sizes from narrow to very wide.
We stock a selection of Men's size 4 to 16's and Ladies size 2's to 12 footwear.
We have footwear for all occasions, sandals, wellingtons, trainers, football, rugby boots and slippers, all stocked throughout the year.
Membership

We are members of the Children's Foot Health Register (CFHR) All Members of the CFHR are committed to the highest standard of shoe fitting for young and growing feet.
To protect such standards members guarantee to provide:
comprehensive training for staff
offer children's shoes in whole and half sizes
offer children's shoes in 4 width fittings
The Federation of Small Businesses (FSB) is non-profit making and non-party political group promoting the interests of its members.
Awards
We have achieved Diamond Star Retailer status for DBShoes.
DB Shoes, are best known for the manufacture of comfortable, quality footwear in a variety of extra wide fittings. Indeed, no other British company offer a greater range of fittings for wider feet. They make shoes for both men and ladies in a wide range of styles and fittings.
Winners of the Retailer of the Year Award
This award recognises the retailer who has done the most to support their local high street. This could be through supporting the local Chamber of Trade or Business Forum and the winner of this award is the retailer who received the most nominations from their colleague retailers.
Winners in the Shop Local Scheme
We pride ourselves on our customer service and we were delighted to be join winners of the Customer Service Award. The other winner was No9 Cafe.
We were also the outright winners of the BISHOPS CLEEVE Business of the Year.
We also won the Peoples Choice – The public vote for their favourite shop.